Good morning!
I loved reading all that you are grateful for yesterday! If you didn't get to share yet, please do!
After work yesterday I had a bunch of errands to run, which included iced coffee with a pal, going to the bank, meeting my mom for a manicure and going to the chiropractor. Danny and I went out to dinner too at one of our favorite sandwich places in Rockville Centre, Press 195.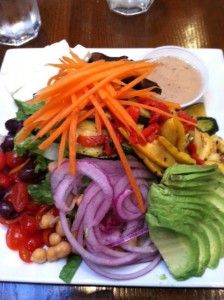 They have the most gigantic salads…I never think I'll finish them…but clearly I always do.
People ask me often how I eat the same lunch over and over again. I have to be honest, I don't get bored easily with food. I like to eat the same things everyday, because that's how much I like them. So, with my salads, they are always the same for the week, but week to week I do vary the toppings. This week I decided to make a bean stir fry to go right on top of my salads (along with everything else I put on them already).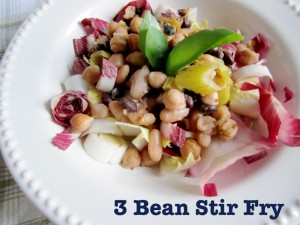 3 Bean Stirfry (6-7 servings)

Ingredients
1 can chickpeas, drained and rinsed
1 can black beans, drained and rinsed
1 can kidney beans, drained and rinsed
4 garlic cloves, minced
1/2-3/4 cup low sodium stock (I used organic chicken stock)
1 tsp dried basil
sea salt and black pepper to taste
6-7 fresh basil leaves (for garnish)
In a large saute pan add the garlic and stock and lightly brown. When broth is simmering add the beans over a medium-low flame. Stir it and then let sit for 5 minutes. Add the sea salt, basil and black pepper and stir again. Let simmer for 10 minutes. Serve over a bed of lettuce or pasta and garnish with fresh basil.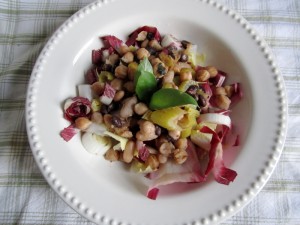 or pasta…with some olives and mozzarella added.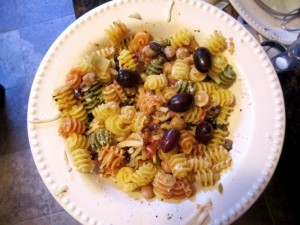 What do you do for lunch? Do you make it or buy it?
Have a great day! The chiropractor gave me the okay to try out running a very small amount. After work I'm hitting up the treadmill!
Also, please check out a deal I'm running for meal planning! It's a steal!