Happy Friday! and Happy FIRST Friday of SUMMER! Does it get any better than that? Well it might because next Friday I'll officially be on summer vacation!
Today in class we are having a cultural celebration. It's basically an excuse for all the kids to bring in food that they love to eat with their families. I'm excited to see what comes in with them! I teach a diverse group of kids, so it should be cool.
So with my strong Italian heritage, I debated between making baked ziti. Decided that would be gross cold. Thought about making bread, layer cookies, biscotti. I found a reason to not make each one of those things. The kids requested meatballs, but again…cold meatballs, although I like them, not for everyone.
Then it came to me….my own cultural food.
Chocolate Chip Muffins. Yep. Seriously. We eat them in my home religiously, so it is my own cultural tradition. It counts.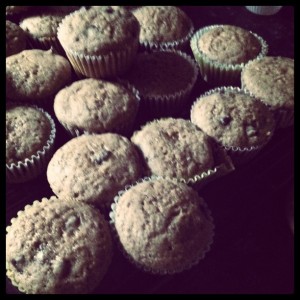 Chocolate Chip Muffins (makes 26 cupcake sized muffins)
4 cups spelt flour
1 cup sugar (I used turbinado)
1 banana
2 tsp vanilla extract
6 tbs unsalted butter
1 egg
3 flax eggs (or 4 eggs)
2 cups almond milk
4 tsp baking powder
1 cup dark chocolate chips
Preheat oven to 350 degrees. Mix together flour, sugar and banana in a large bowl. Next add the butter, milk, eggs and vanilla extract. After mixed well, add baking powder and last chocolate chips. Spoon into muffin liners and bake for 23-25 minutes. Remove from pans to cool.
*Note: I used flax eggs and not all eggs because I ran out of eggs and I made these at 6 am. I used almond milk because I didn't have enough regular milk, but you could use any other milk.
The kids will still get a chocolately treat, but it's whole grain with a low amount of sugar (when you divide 1 cup into 26 muffins, it's really not a lot).
Have a very happy Friday!