Morning! It's so dreary out, I know I'm going to have to most likely hop on the treadmill. Oh well, such is life. Onto more important things…like food.
I've posted about eating quinoa for breakfast in my WIAW posts for the past 2 weeks, but then I realized I never gave a real recipe for it.
I know, most people don't think of quinoa for breakfast, and I felt the same way. Then last year I swear every blogger started going through a quinoa for breakfast kick and I just couldn't not try it. I started off with quinoa granola and left it at that for, um, about a year. Last week I wanted something different from oats that I ate for everyday for 6 weeks, so I decided to experiment. Verdict? Yes, love. Quinoa IS for breakfast.
Another bonus, make 1 pot in 15 minutes, get 4 breakfast servings out of it.
A third bonus: quinoa is amazing. It is a complete protein source, supports tissue growth & repair and is a good source of magnesium, iron, copper and phosphorus. AKA, quinoa helps with migraines, cardiovascular health and heart health…among other things. Read more here.
This gets four servings…well last week it got me 4 servings, this week only 3. Oops. I realllllly love myself a big breakfast.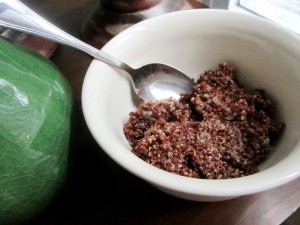 Sweet Quinoa Breakfast

Ingredients
1 cup dry quinoa
2 cups water
1 tsp cinnamon
2 tsp pure vanilla extract
1 tsp maple syrup
2 tbsp agave nectar
2 heaping tbsp raw, creamy almond butter (Trader Joe's Brand)
1/4 cup chia seeds
In a medium sized pot combine water, quinoa, cinnamon, maple syrup and vanilla extract. Heat on medium-high flame until it boils. Stir and reduce heat to simmer and let cook for 12-15 minutes. You can tell quinoa is done with you can see the white spiral on each grain. Stir in agave nectar, almond butter and chia seeds. Serve. 
I eat this warm the first day and top it with loads of toppings like (more) almond butter, goji berries, cacao nibs and fruit. The 2nd, 3rd and (maybe if I get a) 4th I eat it cold out of the fridge. You could totally reheat it though.
Go ahead and switch up your breakfast with this. I know you want to!
Have an awesome day!