Morning! I woke up to a little big of a debacle in my world….our coffee pot broke! I noticed yesterday that my coffee wasn't hot, but I just shrugged it off. This morning it won't brew. Major bummer.  Starting my day with Starbucks Awake tea. I let myself be upset for 5 minutes before I moved on.
Yesterday we spent the day working putting together a quick video for something we are entering. I'll be sure to share more details with you later on.  The video took most of the day and all the sudden it was the afternoon. I have almost no food in my fridge. No fresh veggies at all, so there were slim pickings for dinner. I fished around my pantry and found Trader Joe's 17 bean mix. Soup it was.
I love the 17 bean mix because it's quick and easy and you can make a really good soup with it. I soaked the beans for 3 hours before cooking them, but it's really not totally necasary if you don't have the time.  Total cook time after soaking was about 30 minutes. Danny ended up stopping at the store on the way home to grab me carrots & celery to throw in the soup.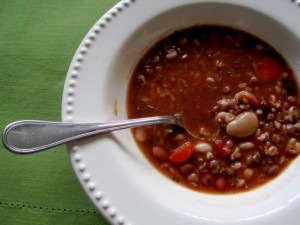 17 Bean Soup

Ingredients
1 package dried 17 beans (Trader Joe's)
1 can diced tomatoes
8 cups low sodium chicken or vegetable broth
2 cups water
1/2 tsp garlic powder
4 carrots, peeled and diced
4 stalks celery, chopped
1 tsp dried oregano
sea salt and black pepper to taste
Soak beans in water for 3 hours, up to overnight. Combine water, broth and dried beans in a large pot. Bring liquid to a boil. Add carrots and celery.  Let simmer for 15 minutes. Add in tomatoes and spices. Let simmer for 15-20 minutes longer. Add sea salt and pepper to taste. Serve with brown rice, quinoa or pasta.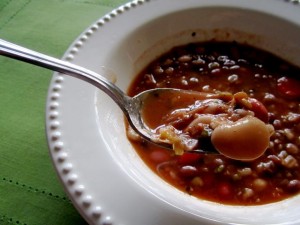 You know I'm a big fan of dinners that are quick and easy…and not to mention healthy. This one certainly fits the bill, whether you're in a time pinch, helping kids with homework or just want a healthy warm meal. Oh and I forgot, this is also VERY budget friendly!
Here is the video we made yesterday for Pure Bliss Eats. We'd love to hear what you think! Don't forget to subscribe to my YouTube channel!
Have a great day!