Morning!
I disappeared on you yesterday for good reason. I'm so excited that yesterday Pure Bliss started to be a part of the Whole Foods farmer's market at Lake Grove.  Every other Wednesday they have different vendors come in from 12-6 and be a part of their store. It's basically a way to get our foot in the door to be on shelves. Super exciting. We had a great day there and got to introduce many new people to our products.
As great as yesterday was, it was long for me and I came home and my whole body hurt. I sat a lot so I'm not totally sure why, but I usually alternate between sitting, standing, sitting back and laying down and yesterday was just mostly sitting. I think that's why. I think I forget I'm almost 36 weeks pregnant (and one month from my due date TODAY!!)
I wanted to catch you all up on my third trimester running while pregnant. It's been an amazing journey and I'm happy to report I'm still getting out there. Running however has totally and completely changed.
If you've missed my other running while pregnant posts check them out:
Tips on Running While Pregnant (OMG I thought I looked pregnant here!)
Recap on First and Second Trimester Running
As of 28 weeks I was still running 12 minute intervals. I'm not really sure when that dropped off, but I know I gradually decreased my intervals, first to 10 minutes, then to 8, and now I vary my intervals with the most being 6 minutes. I'm still getting out there 3 times a week, but I do different things on every run to keep myself from getting bored.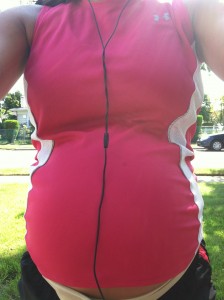 What Has Helped Me Continue Running
Slow down. I literally probably am running 13-14 minute mile pace sometimes. I don't care. Sometimes I'm going as "fast" as 11 minute/per mile pace (that's RARE!!!). I don't pay any attention to pace.
If I feel ANY discomfort during a running interval I stop and walk. I'll try again after a couple of minutes and it usually has gone away. (It's usually either baby moves into an uncomfortable position or it's round ligament pain.)
Belly band. This helps a lot, but for next baby I'll be getting a huge full belly one for these later weeks. After week 30 I'd say I wish I had a full belly band.
Stretching. I take a good 10 minutes after my run and stretch. It just helps.
Switching up run/walk intervals. I always start with a good 4-5 minute walking warm up and then always run for 2 minutes, walk for 1.5 minutes and repeated for a total of 3 times. Then I'll do one of the following intervals, depending on how I feel.
Pregnancy Run/Walk Intervals (3 different versions)
Warm up (4-5 minutes walking and 2 minutes running, 1.5 minutes walking x 3)
5 minutes run, 2 minutes walk, repeat for as long as I want
Cool down, walk 7-10 minutes
Warm up (4-5 minutes walking and 2 minutes running, 1.5 minutes walking x 3)
run 5 minutes, walk 2 minutes, run 2 minutes walk 1.5 minutes, repeat for as long as I want
Cool down, walk 7-10 minutes
Warm up (4-5 minutes walking and 2 minutes running, 1.5 minutes walking x 3)
run 2 minutes, walk 1.5 minutes, run 3 minutes walk 1.5 minutes, run 4 minutes, walk 1.5 minutes, run 5 minutes, walk 2 minutes, repeat 1-2 times.
Cool down, walk 7-10 minutes
My ultimate goal was to make it until 36 weeks running and I have 1 more run to make it there. I don't really plan on stopping at 36 weeks, but I'm going to see how it goes. I want to run as close to my delivery date as possible, but there is no pressure. I've had my good runs and my not so good runs. Everyday is different. Some days I think I'm done and then I'll have a great run the next time. I'm trying to take each run/walk as it comes.
My biggest piece of advice that I could possibly give anyone who wants to run while pregnant is to listen to your body. If it feels good, keep going. If it doesn't stop. I would also say to not discredit the run/walk method. It's what has kept me going for so long. Let go of all expectations and comparisons of pre-pregnancy running or what other people are doing and just ENJOY taking each step.
So that's my pregnant running story. 4 weeks to go. Countdown is on!
(Just to note I am pretty excited to not run with an extra 20 pounds on me and with running clothes that cover the bottom of my stomach!)
If you are a runner, pregnant, or mom, what's your biggest piece of advice to keep going?
And I certainly can't forget, my biggest running while pregnant inspiration…
Congrats to Michele on the birth of her BEAUTIFUL new baby boy, yesterday September 19th! So happy for her and her family!