We got to the hospital (which was only another 5 minute drive) in no time. In my head there would be a last belly shot. A picture of me walking into the hospital. A little recording saying how Danny and I were feeling knowing we were going to meet our sweet baby soon. There was none of that. I walked in almost emotionless and when my sister called crying out of excitement I basically told her I had to go.
Like I said, I had no birth plan besides: get an epidural. We didn't take a birth class, but we did read a whole bunch of books and a TON of birth stories. I knew how cervadil and pitocin could go. And to be honest, I wasn't sure my body would do what it would supposed to and dilate to 10 cm. We walked in and they told me to put on the hospital gown. I was allowed to keep my bra on for the time being, which I appreciated. The first nurse we met assured me I didn't do anything wrong and I had no way of knowing my water broke. That little reassurance really helped me get out of the numb and into the "okay let's meet this baby."
My mom and stepdad showed up with my stuff (which I didn't use till post baby). South Nassau has a STRICT 2 person in the room policy. Obviously Danny was one and I knew my sister would be the other. The entire time I wasn't sure if I wanted a second person to be in the room, but when I started my labor journey, there was NO question I wanted my sister to be there through the entire thing. Not only would she help motivate me, but I knew she would help diffuse any situation, keep me positive and always say the right things to me. I LOVE Danny and obviously LOVED his support (this goes without saying) but sometimes instead of hearing WOW you're doing great, keep going…I knew I'd want to hear…"yea this REALLY sucks" which my sister would do.
My mom and stepdad were able to come in for about 10 minutes while they got the cervadil started since my sister wasn't there yet. That was the only time I was allowed to see them through the entire 38 hours. I wish I was able to see my mom periodically, but there was no people swapping.
I was explained to by the nurses that the first cervadil would be placed in behind my cervix and stay there for 12 hours. Cervadil is to ripen the cervix (help it efface or thin) in order to dilate. I had to stay in bed for 2 hours and then I could move around, eat and do whatever for the remaining 10 hours. I had an IV started and antibiotics. I would recieve bag after bag of antibiotics throughout the entire 38 hours to ward off infection from the rupture of my bag of water. Also, I would have my temperature taken every 2 hours and blood pressure every 30 minutes. If any of those things ever reached a point of concern a c section would be performed. (Luckily there never was any issue.) The plan was to do the first cervadil, hopefully it would work then start pitocin if needed (basically if my contractions weren't coming every 3-4 minutes).
The resident came in to get the cervadil inserted. Let me be frank here and say I LOVED all of the nurses at South Nassau. I couldn't have given birth or pushed for 4 hours if it wasn't for their support. I, however, would borderline say I HATED this resident. She was SUPER cold and negative about the cervadil working because I was closed. She did an internal check and kept forcing my legs open. I immediately broke down and asked her to stop. She was visibly annoyed at me. After I regrouped I got the check and she inserted the cervadil. She left the same way she came in, without acknoledging me, my anxiety or the fact I needed a little positivity.
The first 2 hours flew. I was being monitored and I even started having some contractions. At this point it was nothing. They were short, easy and felt like cramping. I wouldn't be checked until the end of the 12 hours, since they do minimal internal exams because of risk of infection. After the 2 hours, my sister had gotten there and we ordered some pizza from the pizza place. I was pretty psyched and knew it could be my last meal for awhile, so I had some whole wheat pizza and soup. I was feeling good, hopeful and ready to get the show on the road.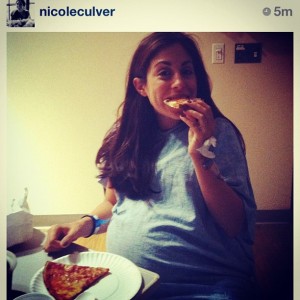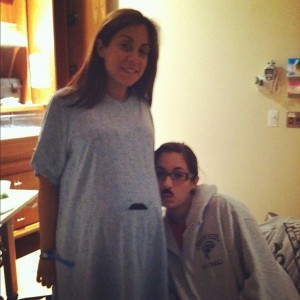 We even broke out the fake mustaches at this point and took some pictures. I was thinking that this was fun, little did I know how unfunny everything would become in the next 24 hours. The three of us watched a lot of boring tv and I tried to rest after I ate. Funny (or not so funny) thing is, is that they tell you to rest, but they come in every 30 minutes to monitor me. I can't complain because they were making sure my baby and I were safe. My contractions were coming on stronger and I asked for some pain meds (not an epidural yet). They gave me a bag of morphine, which immeditately made me feel groggy, but better. I was able to sleep for an hour or so.  Danny and Chris were doing a great job of keeping me basically positive. They also slept on chairs for 2 nights…aka they didn't sleep…or eat along with me.
At 4:15 am (11.5 hours into first cervadil) I felt a POP and a GUSH of fluid. I immediately sat up scared. I had what felt like a water fall coming out of me. I legitately thought I was hemoraging. I lifted up (all while still gushing) and made Danny check for the blood I was sure was there. No blood, just a TON of water. Danny got the nurses and they came in and helped me. This was (what they told me) a great sign because it probably means my cervix was effacing in order to let the rest of my fluid out. I had NO clue that my water hadn't fully broken at the point and was shocked. Let me also say that I have read in many birth stories about the pop and gush, but NOTHING prepares you for the actual feeling. Also, once you have this gush, you never stop leaking until you have the baby…although it does slow. That was one of the scariest things over the entire birth process for me.
After the 12 hours (which made it 4:45 am…after getting to the hospital at 2:30 pm) I got checked again by the same resident.  Before getting checked they were happy that I was now contracting on my own regularly. The resident came in, asked how I was feeling and just stared blankly when I told her I was in pain. She checked me again and informed me that the cervadil wasn't there. Again she was annoyed. I explained that it must have fallen out when my water broke. She was annoyed at that and then informed me that I was only now 1 cm dilated (1 cm more than when I came in) and 80% effaced. She showed no expression that this was any type of good news. She stated she needed to see what the doctor wanted to do and walked out.
The nasty resident came back and told me that since I had no sign of infection they would do another cervadil and see where I was. She inserted the next cervadil and left. The nurse (Collette) told me I could have breakfast after the 2 hours and I could get up again.
The shift changed again (and the nasty resident was gone! yay!!) Lois, the nurse, explained to me that MANY first time moms have 2 cervadils before it works 100%. She also told me that it was good news I was 80% effaced because that's the goal of the cervadil. She made me feel WAY better.  She also told me that I would be pushing this baby out after midnight and would come into congratulate us the next day when she came back.
I would have moments of, "I don't think my body can do this", but with Danny, Chris and this nurse Lois, they assured me I could do this.  Lois was the 3rd nurse I had and was a head nurse. She was very frank, but it was comforting because she kept telling me to stop thinking negative because I can do this. Lois kept telling me that she has seen so many first time moms have cervadil, pitocin and deliver vaginally. That also was SO key to me staying positive and thinking I can do this.
After the 2 hours, my mom brought over a bagel and when I made sure I could eat it Lois told me no because my water had really ruptured and I had to have an empty stomach. I was basically gutted because I was starving at this point AND I was in pain.  My contractions were less than every 3 minutes at this point and PAINFUL. I asked for pain meds but she suggested I try to "eat" clear liquids and wait another 2 hours for pain meds. I decided to try that. They brought me a tray of clear liquids, which meant broth, jello, and a large apple juice. I couldn't stomach the bright yellow jello so I stuck to the broth and the apple juice. I was happy with my choice for awhile, but then the pain REALLY started to come on.
I labored for a little while sitting up in a chair, but my contractions were SO close together that I just couldn't even talk. I was NOT a fun person to be around. Not that I thought I would ever be fun, but I wanted my birth process to be somewhat peaceful. I didn't want to be in this much pain and lashing out. It literally felt like my insides were ripping apart (which they somewhat were, I guess). I requested an epidural because I was in so much pain.
A P.A. came in (who I actually used to go to) and was SUPER nice. She did a check on me and said I was 80% effaced, but still only 1 cm dilated. I was crushed because I knew I couldn't have an epidural yet because it was too early. The nurse and P.A. agreed because this was only the beginning. I was disapointed in myself because I KNOW I don't have a low pain tolerance (not saying it's the highest, but it's certainly not super low) and I was barely even dilated and in so much pain. We settled on another round of morphine, which ended up only slightly helping. It made me groggy enough to shut my eyes for a bit, but didn't really help the pain.
I had Danny and my sister on each side of me for the last 5 or 6 hours just talking me through the contractions. They would tell me when the contraction was disappating. I had MANY contactions that would just run into each other and I would get no relief. I also want to note that I didn't really mind the constant monitoring. A lot of people say it bothers them, but since I was already pretty much confined to bed, it didn't bother me. I still was able to get up to go to the bathroom and my sister pretty much helped me. I didn't need too much help but she was there for support (literally and figuretively).
The last 6 hours of the cervadil were the LONGEST of the entire labor. I was in SO much pain, crying on and off and being very snappy. When we reached the 12 hour mark my doctor was in and he checked me. He "helped me" reach 3 cm and now I knew I was able to get an epidural. I literally was crying out of joy. They called the anethesiologist and that was another LONG 35 minutes waiting.
When he came in I was contracting still every 3 minutes but I was barely getting any relief between them. I begged him to do this really fast and he obliged. I am not afraid of needles and was never afraid of getting an epidural and I'm glad because it would have been a waste. It does NOT hurt at all. I was told to relax my shoulders and round over my belly. It was so easy to do this because I knew relief was on it's way. The epidural was placed in 5 minutes and I was complimented on how still I was. Somehow every through all my contractions I held it together. They told me I would probably feel complete relief in 3 contractions…and I felt it immediately. I literally couldn't have been happier.
I did have a side effect for about 30 minutes of shaking in my legs. I also had minor, minor itchiness. This was all welcomed because I had complete control of my legs, yet NO pain. Now…epidural was placed and pitocin was ready to start…. 25 hours later….
Part 3 coming soon!