First time participating in Katie's Marvelous in My Monday series. First time for everything right? I usually am not in love with Monday's because it's the first day back from the weekend, but I'm being positive today.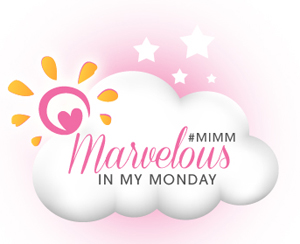 Here are all the good things going on:
1. After posting last week about what's going on with my eczema, I had a couple of very interesting comments. Then I read Michelle's post on eczema also and I read more about it. I will share either later in the week or next week what's going on with me. I've been reading a lot about having oral allergy syndrome, which a reader suggested after my post. I do think that's most likely what I have and it was brought on by pregnancy. I'll be sure to share more later on.
2. Over the weekend I made Jessica's roasted chicken. It literally comes out perfect every single time. This time I got with the program and made chicken soup with the leftover bones. I used this recipe. It's a 2 for 1 meal. I'm pretty pissed I've wasted all those previous chickens!
3. Liv is going to be 11 months in 4 days. WHAT?! I'm 100% in first birthday party mode. I'm trying to do a little bit every weekend and the weekend before her party will be crazy. Trying to do everything before hand so the day of can be enjoyable! I can't wait to share the new things she's doing.
4. She's also cutting 3 teeth. This is making her naps ANYTHING but normal. We're kind of all over the place. I feel awful because it must be so painful.
5. Blissful Eats is supporting Healthy Kids Running Series in our home town of Rockville Centre. We think it's such a wonderful thing, getting kids out there, enjoying running and being active. We're happy to provide snacks!
6. This weekend I enjoyed my usual outdoor 5 mile run, listening to Jillian Michaels podcast. If you want something to listen to that's funny, informational and motivational, I highly recommend it!
7. We're going to be running promotions all week on Opensky. Check out today's promotion of 20% off goji berry cacao granola! Remember it's organic, gluten free AND kosher!
8. Tonight I'm watching Breaking Bad. I've heard it was CRAZY. Only one more episode until the series finale.
9. Since I'm currently dairy & soy free, I've been putting unsweetened coconut milk in my iced coffee. It's decent/borderline good. My favorite is still organic whole milk or soy milk though.
10. I'll leave you with a cute baby picture. Why not right? I just can't with her hair done like this.