Morning! Happy Wednesday and halfway through the week! I thought I'd share some of what I've been eating lately, to give you an idea of what going gluten, dairy and soy free plus eating no raw fruits and vegetables. I'm also avoiding peanuts (still gross to me from pregnancy, so no biggie) and other nuts. I'm eating sunflower seed butter as an alternative which is working fine (although I MAJORLY miss almond butter….) You can read why I'm on a weird eating adventure here.
I'll give an update at some point on how it's going. It's TOUGH. It's 1 week today and I've seen a good amount of difference in my skin, so I'm going to continue it for another week. Right now, it's decently easy because I don't have any lunch or dinner plans. I'm trying to keep meals and snacks at home for as long as I can so I can control what I'm eating. I'm hoping to do this for about 4 weeks and then start adding things back in and see how it goes. I have Olivia's first birthday party October 5th and there may be some exceptions made then.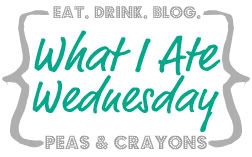 Here's some random meals I've been eating. (This is NOT 1 day's eats, it's random meals in the past 7 days.) It's easy to make delicious meals at home that fit the criteria. (Sure I still give my husband the side eye when he has  load of grated pecorino romano on his soup or pasta meal…)
Thanks to Jenn for hosting!
I roasted a whole chicken (and then made broth with the leftovers), roasted carrots & zucchini and made brown rice in my rice maker.
This is peas, chicken sausage, spinach and white beans sauteed in olive oil over pasta. (I had corn pasta.)
Roasted pork loin with mixed greens and roasted carrots, cherry tomatoes and zucchini.(I have have raw lettuce & spinach.)
Eggplant, zucchini, tomatoes, cauliflower, white beans over spaghetti squash. I pureed half the canneloni beans with some olive oil and basil and then mixed it into the sauteed veggies.
The hardest thing has been iced coffee. There's nothing I love in it besides whole milk or soy, so I've been having a tiny bit with some coconut milk if I really feel like it. Most of the time I don't finish it.
I'll share some more meals with you soon!