Hi everyone! I just got back from Boston just now and am excited to share this really fun giveaway with you!
This week we're celebrating a more exotic fruit:
ZESPRI Kiwifruit,
 a great source of vitamin C, dietary fiber, potassium, folic acid, vitamin E, carotenoids and other antioxidants. Kiwifruit have a low glycemic index (GI) and are low in fat, a perfect dietary addition to children's lunches, snacks, and fruit salads.
ZESPRI Kiwifruit
is sponsoring a giveaway on here, that involves giving my readers a chance to win a Coach change purse valued at $100!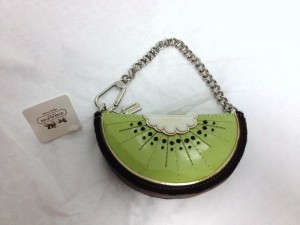 To enter, please post your favorite way to eat
 ZESPRI Kiwifruit
by Monday, August 13
th
 at 11:59PM PST. I will randomly pick a winner (chosen by Random Number Generator) and the winner receives the Coach change purse. Here's one of my favorite recipes:
Roasted Corn and Zesty KiwiFruit Salad
INGREDIENTS:
1 tbsp vegetable oil
1-1/2 cups (250 g) whole kernel corn, fresh or frozen
1 small red onion, sliced
3-4 ZESPRI® GREEN Kiwifruit
1 sweet red bell pepper seeded and diced
1 fresh chili pepper, seeded and diced
2 tbsp (30 ml) lemon juice
1/4 tsp seasoned salt
1 cup (180 g) cooked and drained cannellini or pinto beans
METHOD:
Heat the oil in a large, non-stick frying pan over medium-high heat. Add the corn and cook, stirring occasionally, for 8 minutes, until browned. Place corn in a large bowl.
Slice kiwis into halves and spoon fruit out into 2 cm chunks.
Gently combine all the ingredients and serve. 
What's your favorite way to eat kiwi fruit?
Leave a comment with your favorite way to be entered into Coach change purse giveaway!
Good luck everyone!!