When I was pregnant I balanced many healthy foods with a daily dose of some type of chocolate. I basically am still doing that, but decided to kick it up a notch. Instead of having my small piece of dark chocolate, I decided to make some of my pumpkin chia pudding. I still get my dose of chocolate, but I'm also getting some other important nutrients from the pumpkin and chia seeds. I also love to sprinkle some cacao nibs or dark chocolate chips on top. I am also a huge fan of eating this as a meal. If I do that I take a larger serving and also add in some almond butter and granola.
You'll notice in this recipe, I use very minimal sugar and use almond milk to reduce the calories from whole or skim milk. This is truly a no guilt snack or meal!
I love Silk Pure Almond Unsweetened because it's
30 low calories which are less than half the calories of skim
Smooth and delicious – no need to sacrifice taste for less calories
Versatile and easy to integrate into a number of healthy beverage and eating choices
Pumpkin doesn't only have to be eaten in the fall. This chia pudding satisfies your sweet tooth while given you a healthy dose of omega 3's and antioxidants! The chia seeds and pumpkin make this a super food snack!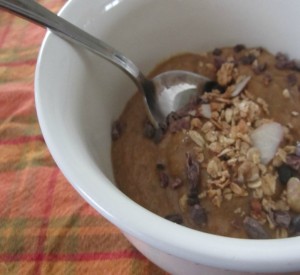 Pumpkin Pie Chia Pudding 

serves 1
1/4 cup Silk Pure Almond Unsweetened Vanilla Milk *
¼ cup can pumpkin
1 tbsp chia seeds
1 tbsp chocolate protein powder
¼  tsp cinnamon
small pinch of nutmeg
¾ tsp agave nectar
Combine all ingredients in a large bowl and mix very well with a whisk, making sure to get all clumps out. Let set for about 30 minutes in the refrigerator.  

 
Calories saved from using skim milk is 15.
{This post is part of a sponsored campaign with Silk and Fitfluential, LLC. All opinions expressed are my own. Learn more about Silk Pure Almond Unsweetened on Facebook and Twitter.}