Hi!
How are you guys? I feel like every week I'm playing catch up on here….it's not just feel like, it is what it is! I hope you'll follow me on instagram because I post much more regularly over there!
This weekend I had a little Blissful Eats brunch to celebrate our new packaging and our re-launch. It was so awesome to have my close family and friends in one place to try everything. We've been getting really great feedback.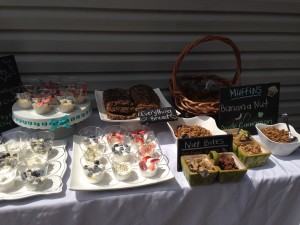 I had about 20 people over and made enough food for about 40-50. I can't help it. I always worry Im going to run out. I kept things really simple for decor. I bought blue mason jars for Liv's birthday, which have been great to use as vases. I picked up 5 bunches of sunflowers from Trader Joe's. Can't beat 3.99 for a bunch of flowers! I used burlap table runners and then put the flowers on the table. Super simple and pretty.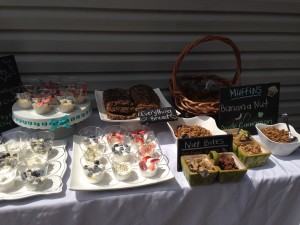 For food I kept it all gluten free, besides bagels. It's just easier. There are so many GF people and no one knows the difference.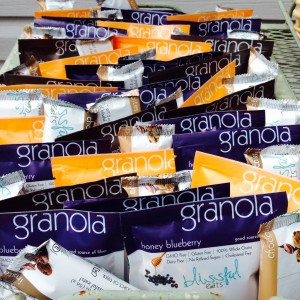 I made:
Parfaits (I did TJs plain greek, vanilla greek and So Delicious coconut yogurt) with hemp, honey, berries and then had my 3 types of granola on the side and 2 types of nut bites
PaleOMG banana nut and apple cinnamon muffins
Edible Perspective's everything quick bread
Fruit salad
How Sweet Eat's Bacon wrapped eggs (topped with arugula and didn't use spinach & red peppers)
(and we bought) an assortment of bagels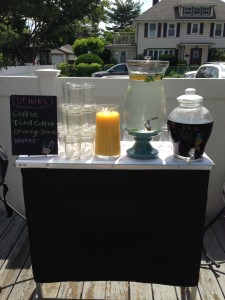 For drinks:
Hot Coffee
OJ
Water with mint, lemon & lime slices
I'm really having so much fun right now getting everything going and seeing everyone enjoy my products. It's thrilling. But the best thing in the world, truly, is having the support of family and friends. I couldn't do any of this without it.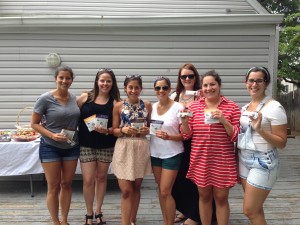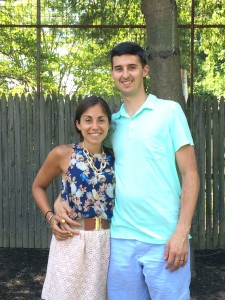 I hope you'll check us out on amazon and opensky! I've been getting asked when the nut bites will be available on amazon and the answer is definitely in the future. I am in the process of getting cardboard boxes (not the official name for it) made so I can package them by the case. Like everything else, it takes time. For now they're available on amazon and they'll be on my website by the end of the week. If you want to order them and not sign up for opensky, then just email me and I'll process it on my own and bill through paypal. Email is nicole[at]blissful-eats[dot]com.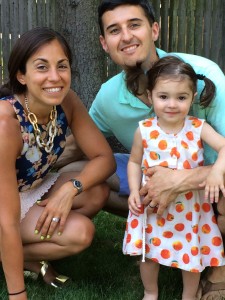 Thank you all for your support!