Yesterday I felt like having falafels for dinner. I have a small obsession with chickpeas. I like to find as many different ways to make them as humanly possible. There's socca, hummus, and just having them on top of a big salad. I wanted something different, so I went with some falafels. I've made a couple different versions before, but this is my favorite to date.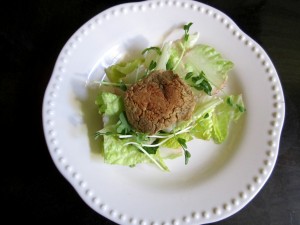 Falafels

Ingredients
2 cans chickpeas, rinsed and drained
1/4 cup quinoa flour (or any flour)
1/3 cup pepitas (pumpkin seeds)
1/2 cup ground flax
5 fresh basil leaves or 1 tbsp dried basil, broken up into pieces
1 tsp cumin
3/4 tsp garlic powder
3/4  tsp sea salt (use 1/2 if you like less salt)
1/2 tsp black pepper
Preheat oven to 350 degrees. Ground pepitas in food processor to make into a flour like consistency. (It's okay if there are some small pieces that didn't ground up.) Add chickpeas and continue to process until it becomes pasty. Then add ground flax, basil and spices. Process again until all mixed. Form into about 12 balls and place on a non stick baking sheet. Bake for 20 minutes and flip over. Bake for 15 more minutes. Serve in a wrap or over a salad.
Yesterday I also tried BodyRockTV, which is a whole different post that needs to be written. It kicked my butt in 20 minutes! I was sweating and breathing REALLY hard. If you haven't tried it, but want a short, intense workout, head over there! I am pretty sore today!
What is your favorite way to use chickpeas or beans?
Thank you SO much for those of you who have submitted my blog to Women's Health Magazine Blog's We Love round up! If you haven't yet, I'd SO appreciate if you would! It's very quick and pretty painless. Thank you!
I'm off to the gym to hit up the treadmill…but first I have to finish this cup of coffee!