I'm always looking to try new foods and recipes, which in turn means that you guys (for better or for worse) get to hear about it too. I hope you think that's a good thing, because I'm like the test dummy. Although, I know I have eccentric taste buds, but I promise, if I like it especially in a recipe I'm raving about, you probably will too. I hope you do give these foods a chance…especially today's.
I don't really like food labels as far as vegetarian, pescatarian, vegan or carnivores go. I believe in eating what you like in the way of nutritious whole foods, whether you are meat lovin', raw diet craving or what have you. What I do promote greatly is trying meat-less meals at least once a week. And this my friend…. is a great way to get started.*
(*Side note: I DO NOT believe that all meat-less meals should be soy based, however tempeh is a great nutritious food that's been around 1,000s of years that you can try. I believe soy should be eaten in great moderation in it's less processed form like in tempeh.)
Meet Tempeh: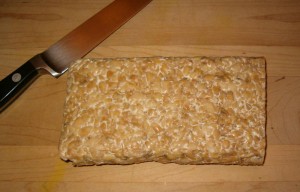 What is tempeh?

It's made from slightly fermented soybeans and usually has other grains added to it like barley, millet and rice. (The one I buy from Trader Joe's contains soybeans, barley, millet and rice, so it's not GF, but still great.) It's packed tight and has a similar texture to a veggie burger. It has a textured and nutty flavor, unlike tofu.  Tempeh has been around for thousaids of years (been around over 2000 years in Indonesia!)

What are the benefits?

It's a low fat, high protein food. The soy in tempeh has key benefits related to its high protein content, its high levels of essential fatty acids, numerous vitamins and minerals, its isoflavones, and its fiber. The protein and fiber in tempeh can also prevent high blood sugar levels and help in keeping blood sugar levels under control. (source) 
What the heck do you do with tempeh?
There are many different ways to prepare tempeh.
You can grate it or slice it.
Laury just posted a recipe yesterday for balsamic tempeh that I made last week. It was my first time making tempeh and I really liked it.
Mama Pea's Orange Sesame Tempeh Recipe is yummy too.
Heather from Where's the Beach made tempeh tacos (I made a recipe VERY similar to this last week: delicious!)
Another Mama Pea recipe, that you could swap out with tempeh is this taco recipe too.
Try this protein powerhouse for a break from a meat based dinner. Perfect for Meatless Monday, or any day of the week for that matter!
Check out some of my other Spotlight posts:
Reader's Spotlight: Quinoa Flour
Superfoods: What's in my yogurt:
Something to do: Next week I'm having 2 more Pure Bliss Eats trunk shows. Go to the website and check them out! Come stop by and visit up!
Have a great day!