Hello Monday! Hope your weekend was restful!
I have so many random things in my pantry, some of which are used ALL of the time and others…not so much. Occasionally I'll come across an ingredients (or 5) that I haven't used in months…or ever, and I feel the need to use it.
This is exactly what happened when I came across buckwheat flour in my pantry. I don't know if I've ever used it….so I had to change that. Mostly because I literally have no room in this kitchen, so I figure why not use some things up. Plus I need room to keep stocking up on pumpkin. Again.
I'll usually start with my favorite blogs that are a given for successful recipes, but this time, the connection just happened. I was catching up on Oh She Glows and there it was, an almond & buckwheat pizza crust. Yes please.
This really looked good and I'm always open for a new pizza crust recipe. This doesn't look like a lot, but really the crust is very filling. I had this slice below with a salad and a small second piece. It's really deceiving how filling it is, but that's what a half almond meal crust will do. This has a very nutty taste (obviously…). It's not like a typical white crust, has a much deeper flavor. I really, really enjoyed this and so did Danny and my sister.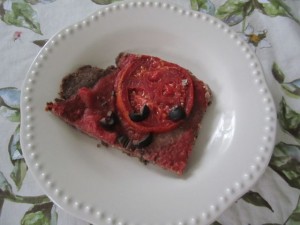 Almond & Buckwheat Pizza (Gluten Free & Vegan Option) (serves 4-5)

Pizza Crust:
1.5 cups almond meal, made from ground raw almonds
1.5 cups raw buckwheat flour
1 tsp baking powder
1/2 tsp kosher salt
2-3 tbsp chopped fresh herbs (I used oregano, thyme, parsley)
2 tbsp extra virgin olive oil
4 flax eggs (1/4 tbsp ground flax + 1/2 cup water, mixed)
4-6 tbsp water, as needed (add slowly)
Pizza Toppings:
1/3 – 1/2 cup pizza sauce (I used a can of plain pizza sauce and sprinkled in oregano, salt & pepper)
1 tomato, cut into very thin slices
1/2 cup baby bella mushrooms
optional: mozzarella cheese (I used fresh)
Preheat oven. Make the crust, roll out between wax paper and bake in the oven for about 15-17 minutes. (For some complete directions, check out Oh She Glows.) Meanwhile, spray a baking sheet with olive oil and lay tomatoes and mushrooms on baking sheet. Drizzle with some olive oil and sprinkle with salt and pepper. Put in oven along with crust for about 10-12 minutes. When crust is done, put on a thin later of pizza sauce and layer on tomatoes, mushrooms and cheese if desired. Broil for 3-4 minutes until cheese is melted (if you used cheese).

*Notes: I added extra flax to this dough to get it to hold better (the extra is already included in the ingredients). I also added extra water and wet my hands so it was easier to handle the dough. This dough is not meant to look perfect, however it rolls out is fine.

Also, roasting the veggies first makes for a shorter time broiling, which is why that step is important.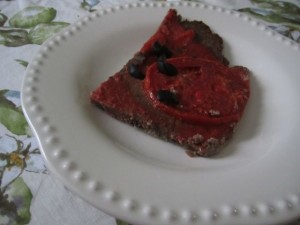 If you do make this please let me know. What changes would you make?
Off to take a workout class and meet with clients! Have an amazing day!
Something to read: I was featured in a Health Coach Spotlight! This is a website from 2 IIN grads who are traveling the country!
Want to take advantage of a group session? Learn about it here. I will be doing a 6 week series at Breathe N Flow Yoga!