Another weekend, another set of home projects near completion. I'm sure you'll all be super glad when we're done with this bathroom so I can STOP talking about this. We're about 2 weeks from completion, I think and then maybe 3 weeks from final, final touches.
We did a lot around the house this weekend, including almost finishing the front landscaping of our house. I'll have to post some pictures, but it really does look like night and day. It's amazing what a fresh coat of paint on the door, a new mailbox, some plants and mulch will do to make a house look so much better. My mom is really the designer out there, so has a vision and I basically just sit and watch. MAJOR thanks to her!
Danny and I also tended to our garden in the back. Hopefully it will start producing some veggies soon!
Over the weekend I got in a 4.5 mile run very early Saturday to beat the heat. During the day, while running errands, the heat really got the best of me and I tried to lay down as much as I could. I felt good enough to head to a small BBQ to celebrate the engagement of my friends Meg & Tim.
For the BBQ I made a Southwestern harvest grains salad and a blueberry, walnut & goat cheese salad. Both delicious and super, super easy.
Blueberry Summer Salad

Ingredients
2 bags baby romaine lettuce
1/2 pint blueberries
1/2 cup chopped walnuts
1 cup goat cheese
balsamic vinegrette
Combine lettuce, blueberries, walnuts and goat cheese in a large bowl. Toss with a balsamic vinegrette dressing.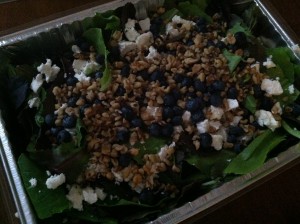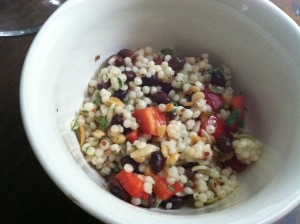 SouthWestern Harvest Grain Salad (serves 15)

based on recipe from Kalyn's Kitchen

Ingredients
1 package Harvest Grains (from Trader Joe's or 2/5 cups dry quinoa)
1 red pepper
1 can black beans, drained and rinsed
1/2 cup chopped cilantro
Dressing
1/4 cup fresh lime juice (I used about 2 limes)
3/4 tsp ground cumin
1/3 cup extra virgin olive oil
sea salt and black pepper
Cook harvest grains according to package and let cool. Dice red pepper and rinse black beans. Add to large bowl. Combine with harvest grains. In a small bowl combine ingredients for dressing and whisk together. Pour dressing over grain salad and toss to combine! 

 
There ya have it, 2 super easy salads to bring to a BBQ this summer!
Have a great day!
Just to keep you updated: Integrative Nutrition is offering $1000 off tuition to those who enroll between today and Wednesday, July 4th! If you're interested in helping people get healthy and become a health counselor then email me!