Help! I need help prying myself off the couch today on this gloomy day. I'm supposed to go for a run today, which has to be outside since I put my gym membership on hold. If you have any extra motivating tips or comments please feel free to leave them below!! I'm sorta enjoying the cool weather the past few days, but I do want the sun to come back. We're going to Philly this weekend for our anniversary, so I'd like some warm weather please!
Yesterday I went to Target.I haven't been there in awhile and I knew that would mean trouble. I love stocking up on cleaning and beauty products while I'm there since they are usually at a great price. I even picked up some Dove body spray because Averie has recommended it. I figured it can go in my gym bag to make me smell nicer!

I also picked up some shampoo, conditioner, more Aveeno body wash, Jergen's lotion  (I'm kind of obsessed with lotion, I HATE dry skin) and some back to school stuff. I always like to get new fun pens, pencils and post-its to start off the new school year. Anyway, $223 dollars later my cart was filled and I was happy. Then it was off to Trader Joe's for some staples. With the egg recall, I'm extra proud of my choice of buying organic eggs. Now onto some food…
So lunch time…what was for lunch? I have been playing around with these spring roll wrappers, trying to figure out how to use them. There are no directions because everything is in another language, so first I tried microwaving them, but yesterday I finally figured it out. You just have to wet them on both sides, give it a second and it will get flimsy.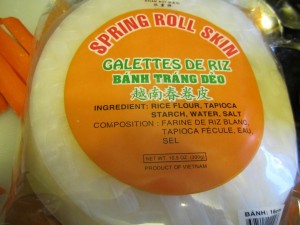 Veggie Spring Roll Wraps
5 spring roll wrappers
10 medium sized shrimp (cooked and detailed)
1/2 avocado, in slices
1 carrot, peeled
1/2 cucumber, cut in thin slices
1/2 yellow or green zucchini, spiralized or cut in thin slices
1 handful fresh baby spinach
Wet one wrapper at a time. Lay it down on a flat surface. Quickly place 2 shrimp and 2 or 3 pieces of each ingredient in the center of wrapper. Fold in opposite sides and then roll. Place in dish. Continue to do the rest of the wrappers, one at a time. Serve with soy sauce.  
Perfect for lunch at home or to go! Remember to leave me some motivating comments to get me to run!
Also,  2 more things – I just bought this workout DVD series, the Inside Out Method from Bob Harper. How good does this look? I need some new workouts to motivate me during the school year.
and the 2nd…I just added a new sidebar widget to my mom's Allstate Insurance page. If you live in NY, I'm positive she could help you with your insurance needs. She's super reliable, honest and hardworking. Give her office a call at 516-561-7777!