If I walked around Trader Joe's and picked up everything I wanted to try, my grocery bill would be three times as much and I'd have to give up my apartment. I usually pick up one or two new things whenever I go, and last time it was freeze dried blueberries. I've already tried to the freeze dried bananas and LOVED them, so I figured why not try another freeze dried fruit.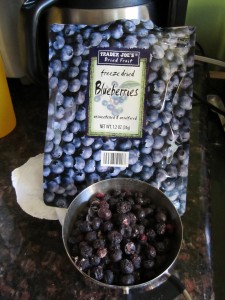 I spent my Saturday night dreaming up what I was going to do with them. Yes, that was before I passed out on the couch during The Social Network. I was thinking up a blueberry, almond butter, pumpkin seed combo.Yum.
The best part about granola bars is you can add or omit whatever you have or don't have…or like or don't like. If you don't have any of these ingredients…leave 'em out!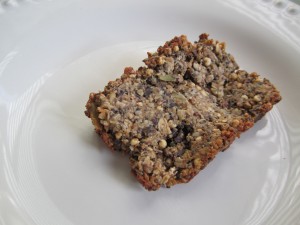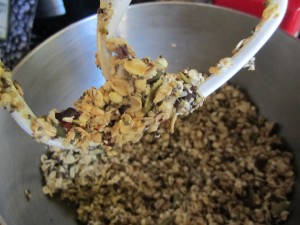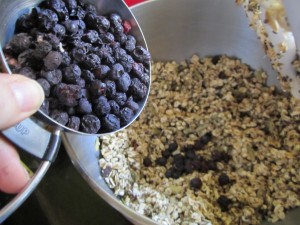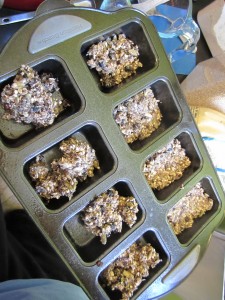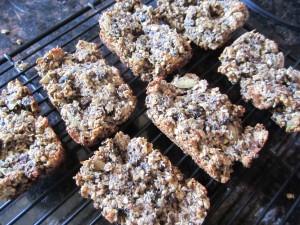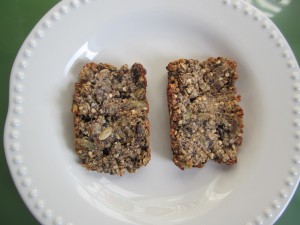 Blueberry Chocolate Chip Granola Bars
Ingredients
2 cups oats
1 cup puffed millet
1/4 cup oat bran
1 banana
1/4 cup chia seeds in 1/2 cup water, let sit for 5 minutes until gels
1/4 cup shelled hemp
1/3 cup pepitas
1/4 cup cacao nibs
1/4 cup dark chocolate chips
1/2 cup almond butter
1/4 cup agave nectar
1/4 cup flax meal (ground flax) in 1/2 cup water, let sit for 5 minutes.
1 cup freeze dried blueberries
1 tsp honey
1/4 tsp baking powder
Preheat oven to 350 degrees. Mix together all dry ingredients in a large mixing bowl, leaving out the baking powder. Then add all wet ingredients (almond butter, agave nectar, honey) and mix together well. The mixture will seem dry, but keep mixing until all ingredients come together. Spoon mixture  either in a 13×9 pan  or use a mini loaf pan. Let bake for 15 minutes. Remove from oven and let sit for 5 minutes before you remove from pan. Once removed, let cool on a cooling rack. Makes about 16 granola bars.
I love making my own granola bars. They taste so much better than packaged granola bars (which I do eat in a pinch). You can make them exactly how you like them or to fit your dietary needs.
Do you ever make your own granola bars? What are your favorite add ins?