Morning! Happy Tuesday and August! I just originally wrote Monday, but it's not Monday is it?
I found a new favorite thing called HBO Go….which means I'm sitting here catching up on about a hundred episodes of True Blood.  Love it.
So last week in my cabinet clean out mission, I made wheat berry veggie burgers that were awesome. I will be making wheat berries again soon (mostly to get rid of them…) and I plan to make grape leaves again also.
Grape leaves are super easy…the hardest part is probably finding yourself a grape vine. If ya want to come to my Aunt Millie's house and pick some up with me, let me know!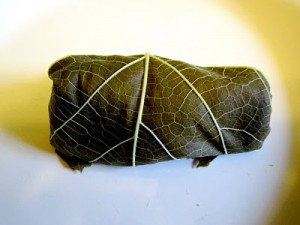 Grape Leaves
Boil water in a pot. When water comes to a rolling boil add leaves, one at a time. Shut off flame and let leaves sit in water for 8 minutes. Remove from water and rinse off in cool water to stop cooking. Set out on paper towels to dry. Add filling and fold in opposite sides and roll.
I also made a yogurt dipping sauce to go with it. Why not right?
Yogurt Dipping Sauce
1/2 cup plain greek yogurt
1/4 cup parmesan cheese
1 tablespoon dijon mustard
1 tsp lemon juice
1 tbsp fresh parsley chopped
4-5 fresh basil leaves1 garlic clove, minced
Combine in a bowl and mix well.
At the very least, give the yogurt sauce a try, you will love it!
If you want to see some pictures from Pure Bliss's latest event, check it out here. They'll be up soon.
I'm off to sit here and watch True Blood, eat, run and then meet a client later on!
*Sorry about the lack of spacing on here…for some reason my blog isn't cooperating today!