Good morning! After I finish this post, I'm going to tend to more important things, like catch up on the Pretty Little Liars episode from last night…so let me share this post nice and quick.

I get a lot of my cooking (and cabinet clean out) inspiration from the blog world. Lately I've seen two recipes for oil free pesto from Jenna and Angela and I figured why not give it a try. I like the idea of using chickpeas because you get even more of a protein packed punch AND less calories and fat from using WAY less olive oil. (I mean clearly having EVOO has it's health benefits that I LOVE and support, but who, SOMETIMES, isn't looking to cutting calories and fat from a whole lot to not that much!)
So I went on my mission to make my own almost oil free pesto. It was REALLY good. This has a thicker hummus-y texture that I really liked. (Who doesn't like hummus??)
Here's the deal: If you are looking for a true oily, creamy, indulgent pesto, then this isn't for you. Stick with a traditional pesto. If you're looking for a pesto flavor to liven up some lunches without adding a ton of calories/fat or to eat as a side dish, then make it!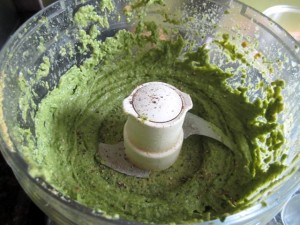 Almost Oil Free Protein Punched Pesto

Inspired by Angela's Oil Free Pesto
1 can chickpeas, drained and rinsed well
1/2 cup packed basil
1/2 cup baby spinach
4-5 garlic cloves
2 tbsp water
1 tbsp olive oil (I used garlic olive oil)
2 tbsp nutritional yeast (OR grated pecorino romano or parmesan cheese)
1/2 tsp sea salt
1/4 tsp black pepper
Combine all ingredients in a food processor. If you'd like a thinner "pesto" add more water and adjust sea salt and pepper according to taste. 
Another can out of my cabinet! Somehow it doesn't look any emptier….
Have you tried (almost) oil free pesto?
I'm off to watch Pretty Little Liars, then maybe hit up my first spin class since before injuring my knee! Enjoy the day!