I don't know about you, but it takes me awhile to get fully acclimated to a new gym. After July I canceled my NYSC membership because I knew we'd be moving sometime in August. I went back to my old gym that I went to all through high school, when I was home from college and post college,  untill I moved to Queens.
I love this gym because the classes there are amazing. They have a ton of spin classes everyday, starting at 6am and they have SO many other classes too. Everything from Intensati, to Zumba, Koga and other classes special to the gym.
Yesterday I decided to take Koga. I was going to do spin, but I hadn't signed up and the line was out the door already, so I decided to give koga a try. The line for koga was out the door too, so I knew it must be good. I had read about it a little before, so I knew it was a mix of kickboxing and yoga.
A little about Koga from the website:  " …balancing in the form of Asana and Kickboxing takes strength too. Koga strength training is a belnd of isometric and plyometric movements. Muscles are trained in the opposition to each other or to an immovable object. This is just the opposite of what we have been taught in the aerobic training of the past." The creater of koga, Jon, also teaches this class.
It was a tough workout, with a lot of get your heart rate up kickboxing moves, leg burning squats and lunges and then some yoga poses mixed in to help stretch. If you like kickboxing you'll definitely be on board with this. My legs are certainly feeling it today!
So what does one do after a hard workout?
Come home to homemade chocolate coconut milk ice cream, of course. Come on, this kind has protein in it! It's okay!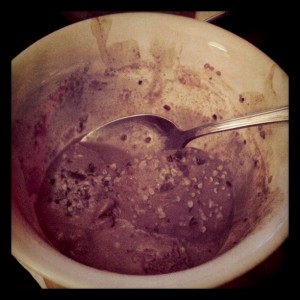 I know, I know, pictures kind of stink. Well, they do stink. I'm too worried about getting this ice cream down before it melts to snap a good shot of it. Sorry, but really, I'm not sorry. Trust me and know it's that good.
Chocolate Coconut Milk Ice Cream
6 cups unsweetened coconut milk
2 tbsp agave nectar
1/3 cup chocolate protein powder (I used Sun Warrior)
1/3 cup cocoa (I used raw cacao powder)
1 tsp vanilla extract
Put all ingredients in a bowl and mix it very well with a hand mixer or immersion blender. Put mixture in freezer safe bowl and freeze. After one hour in the freezer, take it out, scrape the sides and beat again with mixer. Do this one more time in another hour. Let freeze.* 
*Notes: After it's frozen it tastes like an ice. I got lazy/impatient and ate it before it was frozen too, and it tasted like really amazing really cold yogurt.  This melts pretty fast too, which means you have to eat it quicker, I can deal with that. If you have more patience, you can follow Brown Eyed Baker's tips for making ice cream without an ice cream maker. It's pretty involved, but I'm sure worth it! You can add almond milk to make a milkshake like Danny did.
What are you waiting for?
Run time.