Morning! I have a delicious recipe to share with you today. I've made this recipe 2 times now, both for barbeque's when I get sick of the usual suspects. It's very easy to throw together and it's very fussy. I have a big yield down below because I love leftovers of it, but feel free to half it.
I hope you had a wonderful Father's Day yesterday!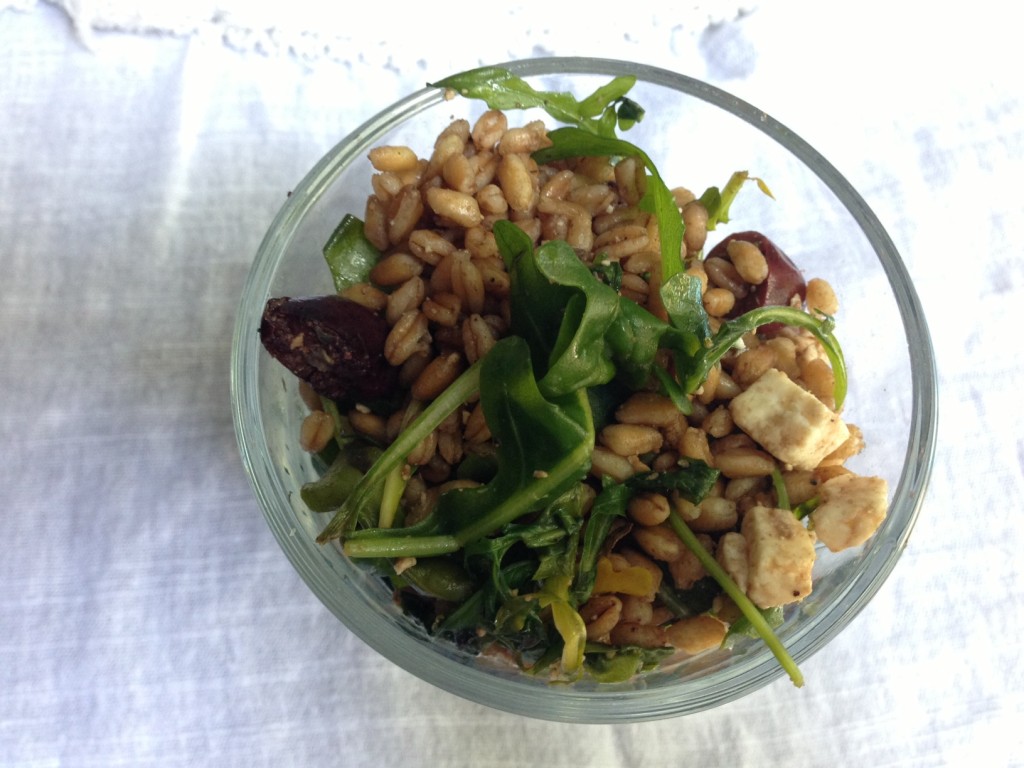 Green Farro Salad (serves 12-15 as side dish)

Ingredients
3 cups cooked farro (about 1.5-2 cups uncooked)
2 cups arugula
12-15 calamata olives, cut in half
1/2 cup ricotta salata
1/4 cup balsamic vinegar
3-4 tbsp olive oil
sea salt & black pepper to taste
Cook the farro and let cook completely. Combine olives, arugula, farro and ricotta salata in a large bowl. In a small bowl combine balsamic, oil, sea salt and black pepper and whisk. Pour over farro, mixing so it combines well. Adjust salt, pepper and add any needed olive oil & balsamic as needed.  
Two more things…I've been on a dairy OVERLOAD lately. I used to eat minimal amounts of it because I figured out after a blood test and paying close attention to my symptoms, that when I eat too much dairy I get very itchy ski, eczema and when it's really too much stomach troubles. I LOVE dairy…but pre-pregnancy I only had it maybe 3-4 times a week. When i got pregnant I was craving cheese, so I went with it and my eczema actually was fine. Well I've continued with this trend of having cheese at least once a day, whole milk in my iced coffee and a yogurt a day. My eczema and itchy skin are OUT of CONTROL. It's really bad, so I've convinced myself to take a break. Even though I'm dreading it. I love dairy. [My itchy skin gets basically immediately worse after I eat it.]
I've done this before and I know once I clear my system out I can have it in small amounts and be okay. So that's what I need to do. I'll let you know how it goes.
Second thing…best body bootcamp round 6 starts today! Super psyched!
Eating anything good this weekend?