I almost named this post taco cups Tuesday…and then I realized it was Wednesday. A whole day behind….but a day closer to the weekend…I'll take it!
Food Should Taste Good was so kind and sent me a bunch of their chips to try a couple of weeks ago. Honestly between Danny, my sister and myself, they went so fast. I had to think of something to make with them QUICK before they were all gone. I did the mini layer dips...that I ate with sweet potato chips so I wanted to do something along the same lines but different (if that makes any sense).
Soooo this is what I came up with!
 Taco Cups

Ingredients:
1 bag Food Should Taste Good chips (I used the "works" because of the shape)
3 strips grilled chicken
sliced olives
diced tomatoes (fresh)
shredded cheese (mexican and/or mozzarella
1 avocado
0% chobani greek yogurt
Preheat oven to 350 degrees. Line a large muffin tin with wax paper. Place 3 chips in each muffin tin. Layer with ingredients, with cheese on the bottom and the top. Bake for 10 minutes. Take out of oven and top with avocado and a scoop of chobani. Remove from wax paper and enjoy! 
And surprise! Since you know how much I love using Chobani, especially for healthy substitutions…. I have some for you!
Giveaway!
3 containers of Chobani 0% plain yogurt!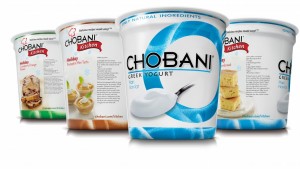 To enter:
Mandatory: Leave a comment on this post sharing your favorite way to eat Chobani!
Optional Entry: Tweet this giveaway:  " Do you love @chobani ? @nicoleculver is giving 3 containers away! Enter here http://bit.ly/ywrf39 "   (edited to add!) Don't forget to leave a comment saying that you tweeted the giveaway!
Get those entries in! I will pick a winner on Monday Feb. 27th!
I'm off to do some work and head to my favorite Wednesday Koga workout!  Have a great day!