Up before Olivia today…I can't decide if that means I'm rested…or just delirious. A little sleep update: She's been sleeping MUCH better, however, she's boycotting her crib. She would much rather sleep in her rock n'play. We've been starting her out in her crib and then by 12:30-1, she's totally had enough of it and will NOT stay asleep. I'm NOT giving up on her crib..obviously and soon I'm taking the rock n'play out of her room so it's not an option. She slept through the night for the first time Sunday night from about 11-5:30.
This weekend I spent time doing some cooking and baking. My sister and cousin came over and hung out with Liv, while Danny and I made a bunch of food and snacks. I will ALWAYS find something to eat because I'm at home…but if Danny doesn't have snacks then he'll just go all day without eating (besides lunch).
I made a twist on these granola crusted nuts from Smitten Kitchen. Maybe I'll share my recipe one day.

Thanks to Kristan for sharing that recipe with me!
Then there was these doughnuts…(OMG SO GOOD). My aunt made these for Thanksgiving and they were amazing. I didn't put any glaze on top though.  They are GF and grain free, but I really just made them for the delicious factor.
I made the following adjustments:
I doubled the recipe. (Yielded 8 mini muffin loaves)
Substituted 1/3 cup turbinado sugar for stevia.
Added 1/3 cup almond meal.
Used a mini muffin loaf pan because I didn't have a doughnut pan.
Added mini chocolate chips (just sprinkled some on top before they went in the oven)
Baked for 22 minutes.
Next on the agenda was whole wheat naan.  I haven't made this in FOREVER. It was worth the work. We kneaded it by hand (well Danny did). They came out perfect and paired so well with our soup and salad for dinner….and lots of butter.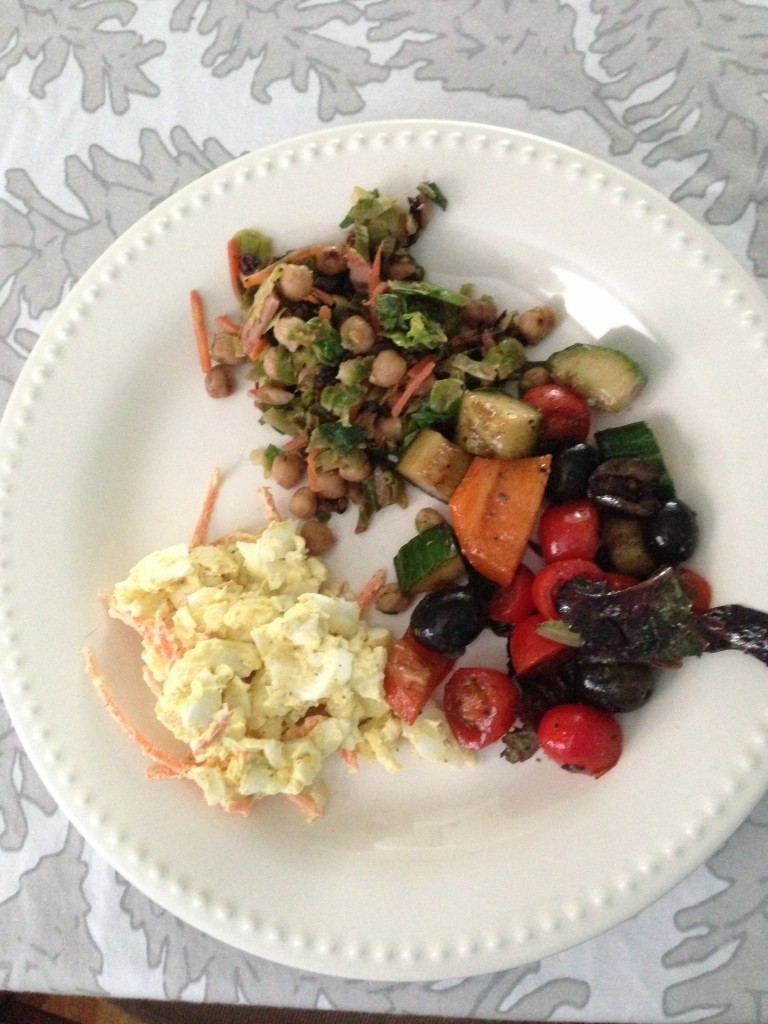 I also made (again) Jessica's warm winter chickpeas salad. (It's the top of the plate!) I adjusted the recipe mainly because I made it from memory because I was too lazy to look it up.
I made the following changes:
Used shaved brussel sprouts from Trader Joe's
2 cans chickpeas (15 oz.)
Used turkey bacon
omitted the mushrooms
omitted the pecans
1 tbsp butter instead of 2 tbsp
I WISH I didn't forget the mushrooms, but it was still delicious.
Also on the menu was this Italian Wedding Soup. I used a little less than 2 cups (frozen) kale instead of spinach this time. I made a lot of this and it fed 5 people with leftovers enough for 3 dinners. LOVE leftovers even more these days.
So that's a wrap for what I made on Sunday. I used to be a big food prepper on the weekends and I've fell off the bus a bit because I eat lunch and snacks at home. It felt good to get back in the kitchen and make food I can just grab during the week AND so Danny could have snacks too. I hope at least one of these recipes inspires you to do a little weekend prep to make the week healthier AND easier!
What's your favorite meal or snack to prep on the weekends?