Hi bloggies! How is everyone's day? I am LOVING this cooler, beautiful weather here in NY, despite us having an earthquake yesterday, it's all good here. (Side note: did you feel the earthquake? Danny and I were on the beach and didn't feel anything….)
Yesterday we headed to Long Beach to go for a run on the boardwalk and then hang out on the beach for a couple of hours. It was a near perfect day. I haven't gotten to the beach as much as I'd like to this summer because of this whole building my business thing, so yesterday was much needed.
Around the blog world there are lots of WIAW (What I Ate Wednesday) going on. It's a way to unify and share with each other what we actually eat. Now I'm not a daily journal of my eats food blog, but I thought it would be fun to highlight some meals.
I don't like to generally do this because everyone is different and we all have different caloric needs to fuel our body. I have no idea how many calories I consume on an average day because I don't count calories, portions, foods, etc. I eat what I want to eat, when I want to eat it. You know I believe in eating well, which to me means eating whole foods that are minimally processed. As long as 90% of my food fits under that catagory, I am doing my job of fueling healthfully.
If your not a IRL (in real life) friend, I think you'd be surprised at how much I actually eat in a day. I eat about every 2-3 hours and I tend to eat really huge meals. (I'e been known to spend 30 minutes eating a salad beast….) I'm actually trying to get away from stuffing my face at lunch and dinner and have smaller meals throughout the day, rather than 3 big meals and 2-3 small snacks. Some days/weeks that plan is better than others and I'm cool with that.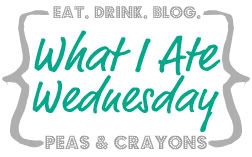 What WIAW isn't about

Comparison – Judgement – Restriction – Guilt

What WIAW is about

Celebrating one of the glorious things we all have in common: We all eat!

It's about food and fun! And, even more, it's about making new friends, breaking out of a food rut, inspiring yourself & others, embracing fruit & vegetables, finding new ways to eat your favorite foods, and so much more <3

Celebrate blogging. Celebrate Food. Celebrate Individuality.
So here's what I ate!
lately breakfast has been plain greek yogurt with 1 tsp chia seeds, 1/2 scoop Sunwarrior choc protein powder, cacao nibs, goji berries, granola, raw almond butter and whatever fresh fruit I have on hard. No joke. This is a power breakfast and keeps me full until lunch. OH and let's not forget the coffee I had this morning too.
lunch was at my mom's:(ie: don't mind crazy dishes) I made a very quick salad and in a small bowl combined 1 can skinless,boneless wild salmon, 1 can kidney beans, 1 can chickpeas, 1/2 avocado, carrots, salt, pepper, garlic powder, balsamic & olive oil. Mixed it together and topped it over greens & tomatoes. This concoction made about 4 servings.
For a snack I had 2 of these chocolate balls.  Well, a variation of these, not the exact ones.
I guess I'll count this as a snack…this is a part of my everyday…iced coffee. Yum.
Dinner was 2 handfuls of baby carrots (I have a carrot problem), kale chips & broiled eggplant sandwich.
dessert was a small smoothie with mixed berries, almond milk, 1/2 scoop sunwarrior, 1 tsp raw cacao powder
So there you have it, a day in the life of my eating habits. No two days are the same and they shouldn't be. Each day is a new day and you may feel more or less hungry depending on what you do. Remember to honor your body and eat to live, not live to eat!

Even though I have trouble with that one too sometimes…
Have a great day!