Sunday I posted about recipe inspiration and I'm trying to get back to cooking before this baby comes. I've been throwing together meals that are so random and while they taste good, it's starting to get old. Plus, my main food groups now are bread, pasta and cheese…
I cannot wait to get back to actually wanting salads and veggies. Right now I'm stuffing them down my throat because I know I have to. Feels like I'm right back in the first tri I tell ya.
Sunday night I decided I wanted to make something good for dinner, so instead of consulting the list I had just blogged, I went to Giada's Everyday Italian. I know most of the recipes are in the book are easy, fail proof and tasty. It's my kind of no fuss cooking.
I went with her rice balls and veggie casserole.  The veggie casserole I made exactly, except I didn't use any onions. It was easy to put together and very tasty. It doesn't stay together super well, but it's not meant to.
The rice balls, I made some changes to because I went based off of what I had in my pantry. (Use what you have!) These were delicious. Yes, they are lightly pan fried, but really every once in awhile, it's fine. You probably could bake them too. If you try that let me know!
(I went to take a picture of the rice balls in the daylight only to find them missing.  My husband took them into work for lunch! So sorry for the stinky night time picture.)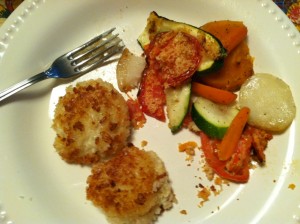 Rice Balls (makes about 16 rice balls)

based on this recipe by Giada

Ingredients
2 cups cooked rice (I just used short grain brown rice cooked according to directions)
1/2 cup panko breadcrumbs
1/2 cup pecorino romano grated cheese
1 tbsp dried oregano
2 eggs, beaten
1/2 – 3/4 mozzarella cheese, cut into cubes
Breading

In a large bowl combine all filling ingredients. Mix together well. Form into ball shapes. I used a 1/4 cup measure to help with serving size. After you form about 16 rice balls, roll them in extra panko. Heat up in a frying pan canola oil to about 1/4 inch. Let heat up and then lightly fry each rice ball, turning occasionally about 4-5 minutes. Drain on paper towels. 

 
*Note: I used a different method with the cheese than Giada did, mostly because I felt it was easier to do it this way. Feel free to do it either way! 
And now this is where I take at least 3 days off from eating cheese after an overload and a lot of stomachaches last week. I ate about 4 of these. Maybe more.
Please make these.
On another, much bigger note: 11 years ago NY was forever changed. I feel like I never know what to say on this day, but certainly it's not about me today. <3
Bless New York's finest our angels in blue, giving us hope and helping us throughand bless New York's bravest the FDNY giving their sweat and their tears and their lives, and bless all the medics and our troops over seas, bless the guys in the hard hats removing debris, bless the every day people who answered the call, bless those who gave some and those who gave all.