Good morning!
I feel like I just came back from a vacation…or a staycation I should say I guess? Danny had off Friday and Monday so we spent the weekend doing last minute baby things, cleaning up and baking A LOT. Our house is pretty straigtened and organized, so besides doing last minute things that get done often (like clean kitchen & bathroom) we are all set for baby. My form of nesting is apparentely baking.
After Danny and I went to Buy Buy Baby to buy our stroller, we stopped at Trader Joe's to pick up supplies to make muffins and cookies. Muffins were basically last on my list for pre-baby baking. Funny because I woke up this morning and just had to make apple streusel oat squares AND granola oat bars. Maybe we can bribe people to babysit if we offer them muffins & cookies?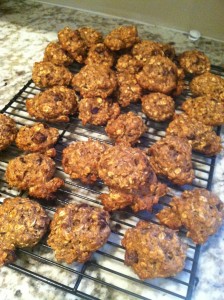 Our final list of things we baked over the weekend is…..
Peanut Butter Chocolate Chip Muffins
Oatmeal Chocolate Chip Cookies
Apple Streusel Oat Squares (I made it with spelt flour and real butter)
Blueberry Chocolate Chip Oat Bars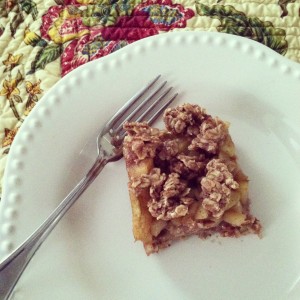 I *think* I'm done now. But then again, who the heck knows when this baby is coming. Last week I would have thought I would have had her/him already, but this weekend left me feeling really good…so maybe I have awhile? I think not knowing when labor is beginning is harder than not knowing if the baby is a boy or girl at this point!
Now that I've baked 2 things and eaten them I'm off for a walk and to decorate for Halloween!
Something to do: PLEASE check out my friend Carla's workout skirt she has designed. Not only are they super cool, but ALL of the profits for the skirts go to Mayan Families charity. Not only will you look good while working out, but you will support an amazing cause. 
Have a happy Columbus day and enjoy your day if you're off from work!