Morning! I'm up and at 'em this morning, starting off with Core Fusion bootcamp to get my workout in. I'm meeting some friends after work so I wanted to get my sweat in early.
In getting back to training for the 15k and half marathon I've been making sure to get my runs in on the treadmill. I've only been running twice a week and I have to say it's been nice. This is the week that I'm bumping it back up to 3 times a week probably until May. I can't wait for march to bring warmer weather and outside runs!
I've been doing some varying speed-work and hills on the treadmill to increase my stamina and try to get back in running shape.
I like doing intervals workouts because I can run faster and walk in the same workout. I thought I'd share what I've been doing once a week. You can totally adjust the speeds to your liking, faster or slower. Don't forget to tune into your favorite mindless tv show while running!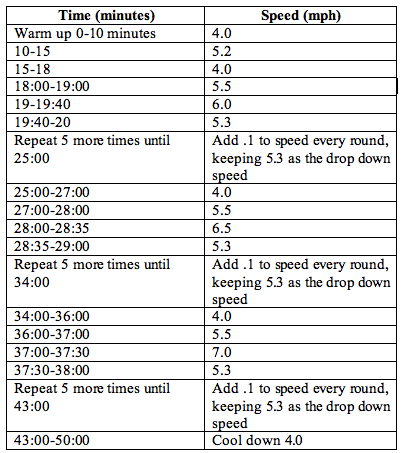 Do you like using the treadmill or do you avoid it at all costs? Please share any great treadmill workouts you have!